What are your experiences of renting in London?
With rental prices in London rising five times faster than tenant pay, we want to hear your experiences of renting in the capital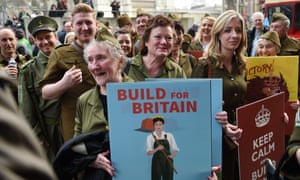 Demonstrators wearing WWII uniforms protest at a Homes for Britain rally in London, calling for political parties to end the crisis within a generation. Photograph: ANDY RAIN/EPA
Private renters in London face soaring costs with the shortage in housing, and a host of other factors, pushing up prices everywhere. Renters find it difficult to get on the ladder and workers are pushed further and further from the centre of the capital.
In the three months prior to June rental prices rose five times faster than the average tenant income, according to the Office of National Statistics.
As the shortage of housing causes prices to spiral out-of-control, unconventional living arrangements emerge. Room-sharing with strangers, for example, is on the rise and increasing numbers of 20-to 45-year-olds are moving back in with their parents.
So what's your experience of renting in London?
Have you seen your rent go up by exorbitant levels mid contract? Are you one of those who has moved back with your parents because you can't afford rent?
Perhaps you are one of the many divorcees in their 30s or 40s or key workers who just find it difficult to live in London because of the accommodation expenses.